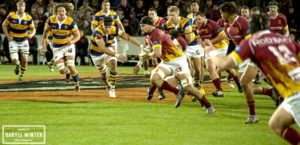 Henderson Construction has a workforce of experienced builders and painters who will ensure your construction project, whether large or small, is completed to the highest standard. We are invested in training Carpenters for the future and are currently training apprentices in carpentry.
We specialize in tender and commercial work, with years of experience in fit-outs, sheds, industrial buildings and structural upgrading. Henderson Construction also has the skill-set to ensure your building is up to the standard for earthquake protection.
Health and Safety
Health and Safety are of paramount importance to us because we value our workforce. We actively promote a strong Health and Safety environment within our staff and sub-contractors by holding regular Health and Safety training meetings. As a company we are proactive in evaluating risks on site and putting systems in place to ensure the safety of our staff and the general public we come in contact with.
Henderson Construction Ltd are members of Site Safe, are ACC-accredited Secondary Level and Prequel Assessed.
All employees hold Site Safe Construction Passports, with our Contracts Supervisor and Healthy and Safety coordinator, Rex Milne, holding a Site Safe Supervisor Gold Card. At Henderson Construction all our staff receive on-going training in relevant construction technology.
Supporting the Community
Henderson Construction is a company that takes pride in supporting the South land community. We support major community events such as the Tour of South land and are the sponsors for the Under -23 Pink Jersey.
Henderson Construction also provides sponsorship signage at the rugby grounds for the Stags games, including sponsoring a Stags Jersey.
Our Key Personal
Building Capabilities
Painting Capabilities